---
14th Oxford School on Neutron Scattering
6 - 18 September 2015
St. Anne's College, University of Oxford
An ideal introduction to the theory, techniques and
applications of neutron scattering
Home | News | About | Programme | Teaching materials | Accommodation | Application and Fees
Contact | Organisers | History
---
18th September
Thanks to all for a great school. The answer book for the tutorials has just been posted, and missing lectures will also be posted here over the next few days.

See you around!
Vicky, Ross, Andrew, Luke and Sean
xx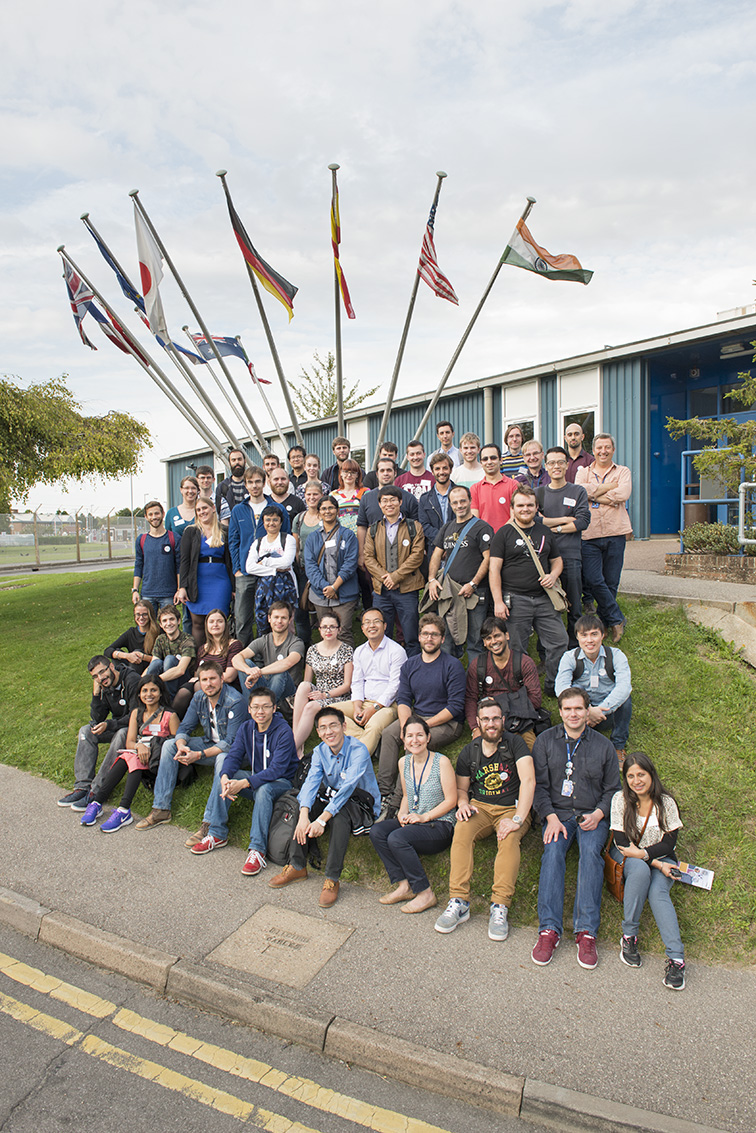 4th September
You can download a copy of the school information leaflet here. This includes general info on the school locations and what to do in Oxford, including maps.
3rd September
The School twitter account is @OxfordNeutron. Follow us if you like for updates and news during the school. If you tweet about the school, use the hashtag #OSNS2015
3rd September
(some of) The Lectures and School Exercise book are now posted on this website, under "Teaching Materials" above. (we'll post the Answer Book at the end of the course!)
25th August
Roger Cowley Memorial Day
There will be an event taking place in the Oxford Physics department as a memorial to Professor Roger Cowley, who was a pioneer of inelastic neutron scattering, and a former lecturer at the Oxford Neutron School. The event will start with some talks in the Denys Wilkinson Building between 10.45 and 12.45 on the middle Saturday of the school (the 12th September). The organizer of the memorial day has kindly invited students of the Oxford Summer School to attend these talks. Speakers will include Bill Stirling (director of the ILL), Andrew Taylor (former director of ISIS and now Head of National Laboratories) and our own Gerry Lander.

Please let us know if you would like to attend this meeting at osns@stfc.ac.uk
7th July 2015
School fee payments can be made at https://epayments.bucks.net/stfc/14/. You should receive a confirmation email once your payment is successful. If you don't receive a confirmation, or if you have any questions, please let us know at osns@stfc.ac.uk. The deadline for school fee payment is the 15th July
16th June 2015
Selected applicants for the school should have now received their invitations. Please respond as soon as possible with you acceptance. The website for payment of the school fees will be set up in the next few days.
3rd June 2015
The organizing committee of the school will meet on the 9th June to select the school attendees. Applicants can expect to hear the outcome of this selection by the 12th June.
1st May 2015
The OSNS applications process has now closed.
13th April 2015
Dr Victoria Garcia Sakai, the coordinator of the Oxford School on Neutron Scattering has produced a video introducing the school to prospective attendees.
5th February 2015
Applications for the 2015 Oxford Neutron School are now open at
http://wwwisis2.isis.rl.ac.uk/useroffice/OSNS2015/Application.asp
The deadline for applications is the 1st May.
1st February 2015
First announcement of the 14th Oxford Neutron School
---
The Oxford School on Neutron Scattering is intended for scientists and engineers who are new to the field of neutron scattering. Lectures and tutorials covering the theory and practice of neutron diffraction and spectroscopy are given by international experts. Students will gain a comprehensive grounding in modern techniques and applications at both continuous and pulsed neutron sources and have the opportunity to hear about the latest research being carried out with the technique.
---
The 2015 school programme consists of lectures, tutorials and problem classes taking place each weekday with occasional evening lectures. In addition, students make short presentations to their tutorial groups about their current research projects, and go through a neutron beam-time proposal writing exercise.
There will also be a visit to the nearby ISIS Neutron and Muon Source.
Topics covered during the school include:
Neutron sources

Neutron instrumentation

Neutron scattering theory

Diffraction

Spectroscopy

Small angle scattering

Reflectometry

Spin-Echo

Engineering
---
Accommodation will be provided in single rooms in St Anne's College, University of Oxford from Sunday 6th September 2015 to Friday 18th September 2015. Breakfast will be provided for each day of the school, and evening meals will be provided during the weekdays.
Students will be expected to arrive in the afternoon on Sunday 6th September and depart in the morning on Friday 18th September after breakfast.
There are also places available on the course for non-residential students, who don't need accommodation, at a reduced fee.
Lectures and tutorials take place at the Denys Wilkinson Building, University of Oxford.
---
Places at the school are in high demand. To apply for a place you will need to submit a personal statement and a statement from your academic supervisor using our online application form. These will be used in the selection process.
Application for the 2015 Oxford Neutron School is now closed
School fees for 2015 are £420 (~ €550) per residential student which includes the cost of a bedroom during the school, breakfast and an evening meal, teaching materials, drinks reception and gala dinner. There are 50 residential places available.
For non-residential students, the school fees are £100 (~ €130) which includes teaching materials, drinks reception and gala dinner. There are 10 non-residential places available at the school.
If you have been successful in gaining a place on the school, please visit https://epayments.bucks.net/stfc/14/ in order to pay your school fees.
---
A lively social programme is planned including a drinks reception and gala dinner and quiz evening. There will be opportunities for punting on the Oxford rivers, visiting historic places and exploring the city.
---
If you cannot find the information you need about the School on our website, please drop us an email at osns@stfc.ac.uk and we will try to answer your questions.
---
Head of School
Victoria Garcia Sakai (ISIS, Rutherford Appleton Laboratory, UK)
Organizing Committee
Andrew Boothroyd (University of Oxford, UK)

Luke Clifton (ISIS, Rutherford Appleton Laboratory, UK)

Gerry Lander (Grenoble, France)

Sean Langridge (ISIS, Rutherford Appleton Laboratory, UK)

Emma Roberts (ISIS, Rutherford Appleton Laboratory, UK)

Ross Stewart (ISIS, Rutherford Appleton Laboratory, UK)
---
Supported by
---
Last updated: Friday, 18 September 2015 10:32
The Oxford School on Neutron Scattering website is hosted by ISIS at the Rutherford Appleton Laboratory.
---